Portland Condos – Portland ranked one of the Healthiest Cities in the Nation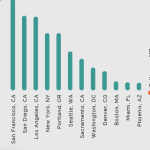 Portland Condos. Another reason to live in a condo in Portland, Oregon as ranked on of the top healthiest cities in the nation.
Yummly, a recipe website evaluated the search behaviors of 100 million uses to determine which American cities are healthiest. Portland, Oregon came in number 5. The other top four were San Francisco, San Diego, Los Angles and New York City.
This is not such a surprise for those who live in a Portland condo in the Pearl District with Whole Foods just down the block with lots of Kale salads among other healthy choices. Of course we have lots of farmer markets for our urban Portland, Oregon condo dwellers with the largest located in South Park Blocks, one in the Pearl District, South Waterfront and another on another day in Northwest Portland offers many healthy choices for those living in condos in these neighborhoods. For the full article check out this Yummly article. For a complete list of Portland condos for sale click here.