Portland Condos NW 23rd neighborhood condos for sale under $300,000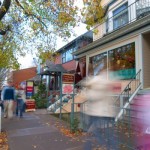 Portland Or condos, homes and townhouses for sale under $300,000 in the Northwest 23rd neighborhood.  Popular Portland NW 21st and 23rd streets delineate this trendy neighborhood featuring historic residences, condos, townhouses and homes. This area is full of restaurants and boutiques, close to Portland's Pearl District as well as the largest urban park in the nation, Forest Park.  Active street life combines with calm residential cross streets in this areas "Alphabet District" making navigation simple. For the dog lovers we have a dog park, Wallace Park and for those who like to venture over to the Pearl District or Downtown there is the Portland Street Car.  For listings of condos and lofts under $300,000 in NW 23rd area click here.  Northwest 23rd area complete search of condos currently for sale click here.
Portland's NW 23rd neighborhood complete list of condos, townhouses and homes currently for sale under $300,000.