Portland Condos – Loft in Brooklyn with ideas for Condos in Portland!
Portland Condos. Here are some creative design ideas you could integrate in your own Portland condo or loft. The article is about a 1,000 sq. ft. loft in Brooklyn that has some of the same features as some of our condos and lofts here in Portland, Oregon.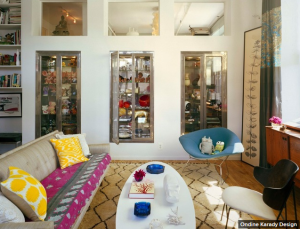 The designer featured in Houzz.com had worked with many real-life stars and used some of the furnishings from those sets which make it even more fun. Portland is filled with many antique shops so finding pieces similar to these would make for great furnishings for your own Portland condo. One of the photos is showing a see through separation wall between the bedroom and living area. Here in Portland many of our condos and lofts have similar open spaces such as those in the Marshall Wells Lofts, Avenue Lofts, Streetcar Lofts in the Pearl District. This would not only add separation but also allow light to flow through and a great way to display your treasures. The other photo with the long hall wall is a innovative way to design that type of space which we see in some of our Portland Condos. Many of my clients like long hallways to display their art but with adding a large mirror and light are a great way to create light. Mirrors is used often with condos here in Portland has it's reflection creates the "illusion" of a window. In the photo with the dining room table is also another way to define space with your Portland Oregon Condo. Most of our condos here in Portland the living room is open to the dining room and kitchen such as condos in the Gregory Lofts in the Pearl District, American Plaza in Downtown Portland or the John Ross in Portland's newest condominium neighborhood, South Waterfront.
Whether you are currently living in a Portland condo or looking to purchase what great ideas to make your condo a reflection of yourself. For a complete list of condos for sale here in Portland Oregon.