Portland Condos in Portland's Pearl District for sale over $1,000,000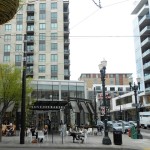 Take a look of these Portland Condos and lofts for sale over $1,000,000 in Portland's Pearl District, a much sought after area formerly occupied by  light industry, warehouses and railroad yards and now well known for its art galleries, boutiques, restaurants, upscale businesses and residences. The area has been transformed into a significant Portland condo urban renewal area since the late 1990s, including construction of the Portland Streetcar. It now mostly consists of high-rise condominiums and warehouse-to-loft conversions.  To view listings of condos and lofts over $1,000,000 in the Pearl District click here.  For a complete list of Portland condos and lofts for sale visit Pearl District Lofts and Condos.
A bit more about Portland's Pearl District…
Shopping and Dining in the Pearl
With its high concentration of chic boutiques and restaurants, the Pearl District has become a city-wide destination for shopping and dining. In addition to name-brand retail stores like Anthropologie and Diesel, the area features independently owned clothing boutiques like the fabulous, frequently updated selection at Mabel and Zora's  or the simple, posh fashion at Parallel. From upscale and minimalist to down-to-earth and eclectic, the Pearl has a wide variety of stylish decor shops; Hive Modern is a local favorite. For our book lovers there is our famous Powell Books and for the sport activist, REI. Dining options are many and include classic Italian fare at Mama Mia Trattoria  or tapas at Andina. This town's loves its microbrew, so it's no surprise that Bridgeport Brewery, Deschutes Brewery and Rogue Brewery  each have their own brewpub outposts in the area. See also the fantastic wine list at Vino Paradiso.
Nightlife and the Arts
Well known for its vibrant arts scene, the Pearl is home to many galleries, some well-established like Elizabeth Leach, others up-and-coming, Igloo, for instance. The galleries stay open late and throw open their doors to the community once a month for First Thursday, a popular Portland institution and the largest of its kind in the Northwest. In addition to the visual arts, one can partake in a performance at Portland Center Stage at the Armory (128 NW 11th) or a show at one of the area's many clubs such as a jazz destination Jimmy Mak's (221 NW 10th or Someday Lounge (125 NW 5th).
Everyday Living in the Pearl
More than a destination for nightlife and commerce, the Pearl is a complete neighborhood with an abundance of everyday amenities, including grocery stores Whole Foods in the Pearl (NW 12th and Couch); Little Green Grocer at NW 11th and Northrup; Safeway, 1303 NW Lovejoy St), a number of banks, a hardware store such as Ace Pearl Hardware, 1621 NW Glisan St), dry cleaning, and more. The Pearl also features an array of spas, salons and wellness centers, notably Pearl Pilates Studio (1211 NW Glisan St) and Kanani Pearl Spa (1111 NW Marshall St). For our animal lovers which are many and loved in the Pearl there is the Pearl Animal Hospital (1250 NW 10th Ave). Walkers, bikers, and joggers enjoy using the many paths along Pearl's North Park Blocks, Downtown's Tom McCall Waterfront Park and over off of Northwest 23rd Forest Park the nation's largest park within city limits. Though known to attract many young urban professionals and empty Nester's, the Pearl increasingly houses families with young children, to the point where Portland Public Schools has announced plans to open a satellite elementary school in the area. Existing elementary schools in the vicinity include Childpeace Montessori (1516 NW Thurman St), Emerson Charter School (105 NW Park St), and Chapman Elementary (1445 NW 26th Ave).
Geography and Transportation
It's easy to navigate the Pearl. Avenues, which run north to south, are ordered such that street numbers increase as you move west from the river. The first letter of east-west street names go by the alphabet; as you move north from Burnside, you'll find Couch St, then Davis St, and so on to Yeon St. This logical grid scheme makes it easy to find a particular intersection. The Portland Streetcar puts Downtown and Portland State University a convenient, 4-minute ride away and puts shopping along trendy NW 23rd Ave within striking distance. The area is well served by public transportation; one can catch the MAX as well as many of the Tri-met buses routes along the bus mall on NW 5th and 6th.