Portland Condos – Holiday events around Portland
Live or want to purchase a condo in Portland Oregon?  During the holidays there are lots of fun events in some of our popular Portland condo neighborhoods.
In the Pearl District every year we have the Christmas tree lighting in Jamison Square located between Tanner Place Condos, Riverstone Condos and Park Place Condos.  Whether  you stroll there from your condo in Portland's Pearl District or ride the Portland trolley from your condo in Northwest Portland, South Waterfront or Downtown the holiday tree and all the festive lights throughout the Pearl District makes this a wonderful winter thing to do.   Another fun holiday event this year in the Pearl District is a holiday Pearl District Holiday event.  During your stroll through this beautiful condo neighborhood take a photo of one of the window display and take a chance of winning.  Like the theater?  Take in a great Holiday play at Portland's Center Stage located on the south end of the Pearl District close to the Elizabeth Lofts Condos, 937 Condos or The Henry condos. Two plays this year are Twist your Dickens and The Santa Land Diaries which are great plays in your neighborhood if you live in a condo in the Pearl District but only a Portland Street car ride away if you live in a condo in downtown Portland, Northwest Portland or South Waterfront.  For a complete search of condos in the Pearl District click here.
Perhaps you are thinking about buying a Portland condo in Downtown Portland, Oregon.  This wonderful Portland condo neighborhood too offers many holiday events.  One of my favorite is the lighting of the Holiday Tree in Pioneer Square which brings out many for this special Portland holiday event.  If you live in Downtown Portland even better as no need to fight traffic as it is right down the street from the Roosevelt Condos, Benson Tower Condos and The Eliot Tower Condominiums.  Of course our Portland streetcar takes you just a block away from Pioneer Square if you live in a Portland condo in the Pearl District, South Waterfront or Northwest Portland.  Another fun Downtown Portland holiday event is the Holiday Ale Festival.  This event is over for this year but perhaps purchase a condo in 1915 and be ready to take in this holiday event next year!  If you missed this event this holiday season there are still lots of events at Portland's Living room, Pioneer Square. For a complete search of Downtown Condos for sale click here.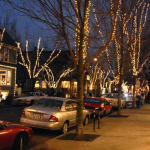 There are lots of festive events during the Holidays in urban Portland Oregon and of course our wonderful Northwest 23rd Avenue is festive to perhaps have dinner, A winter drink or do some holiday shopping.  Northwest Nob Hill is home to many Portland Condo buildings such as The Vaux Condos, Westover Condos, Westerly Condos, Cambridge Condos and some of our historic condo buildings such as The Embassy Condominiums, Wickersham Condos or American Ball Parc condos.  For a complete search of condos in Northwest Portland click here.
Whether you choose to live in a Portland Condo in The Pearl District, Downtown Portland, Northwest Portland or South Waterfront there are lots of holiday activities for all to enjoy!  For a complete list of condos for sale in Portland Oregon click here.Becky Scharf
Google