Portland condos decorating vintage style!
Portland Condos. Here are some great ideas especially if you live in one of our older charming Portland Condo such as in Northwest or Downtown Portland.
Ideas from houzz.com showing creative ways to decorate an older condominium such as those we have here in Portland such as in the Embassy Condos in Northwest Portland or the Roosevelt Condos in Downtown Portland. Many of our older Portland Oregon condos have wood floors, higher ceilings and beautiful old world charm moldings and built-ins. The Johnson Condominiums here in Northwest Portland have wonderful glass built ins in the dining and living rooms to store glassware or what not's. I really like the idea of mixing the "vintage and modern styles together" which many of our Portland condo owners here do very well with their vintage condo such as in the Wickersham condominiums in Northwest Portland.  Over in the Pearl District are some of our converted warehouses turned into lofts and condos in Portland which also have a vintage look where I have seen owners mixed the old world such as with antique chandeliers and other use a modern look.   A few of our warehouse conversion lofts condos in the Pearl District in Portland are The Avenue Lofts, Marshall- Wells Lofts, Chown Pella lofts plus many more. On the other side I have seen Portland condo owners who live in a modern condo here in Portland mix their vintage items whether it is the turn of the century or mid-century which creates very warm and fun inviting condos.  In the article they say the key to mixing vintage and modern pieces is textures and colors make a big difference. Using some of these ideas is a great way to make your Portland condo unique not looking like it came out of a book which makes it so fun to own a condo here in Portland, Oregon.  For a complete search of Portland condos for sale Click here!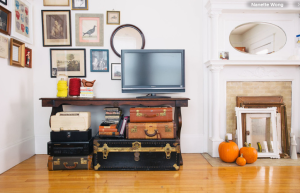 I like the idea of blending the flat screen TV in with mirrors.  This would be a great way to blend in a TV in a smaller space as we have with many of our condos in Portland.  The suitcases is a fun idea and with so many antique shops in Portland would be a fun hunt!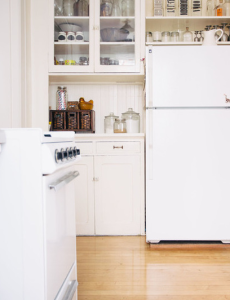 This kitchen is very similar to many of our Portland condos that are historic with lots of charm.  Many of the condos in Northwest Portland and Downtown Portland have these built ins and wood floors.  Fun way to displace dishes with glass cabinet doors.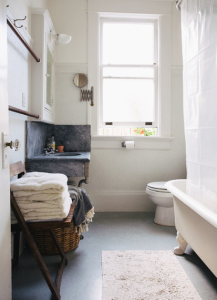 What a great charming bathroom especially with the claw foot tub!  Some of the bathrooms in our older Portland Condos are smaller like this and see those hooks use of space and the chair to hold towels.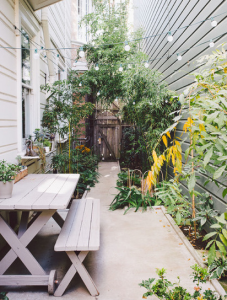 Many of our condos in Portland Oregon have outdoor space but is limited in size.  I think this is a great use of space and can see this ideas used with some of our townhouses and condos especially in Northwest Portland.  Perfect for enjoying some of Portland's beautiful Spring and Summer weather!
Becky Scharf