Defining Space with your Portland Condo
Need some ideas in defining space with your Portland Condo?  Many of our condos here in Portland Oregon have an open space floor plan where defining condo living space can sometimes be a challenge.
Here are some suggestions from Houzz.com with great ideas of defining space whether you are looking to purchase a condo and just not quite sure how to define your space or perhaps you already living in a condo here in Portland Oregon and want to rearrange and define your Portland Condo a bit more.
Do you have an open space Portland condo or the one you are thinking about purchasing is and you are just not quite sure how to create visually pleasing spaces?  Imagine its textures, colors and openings.  Envision all of the objects that are currently in it. Now remove the exterior walls.  What remains? Does it still feel like a condo living space? What elements are left intact to define this condo space? Walls are typically the most recognizable architectural elements defining condo spaces.  Let us expand on this concept and look for other ways to create define spaces whether your Portland condo is an open loft space such as we find here in Portland, Oregon in The Elizabeth or Marshall-Wells Lofts in the Pearl District or perhaps in a more traditional type of Portland Condo space as we fine in The Benson Towers in Downtown Portland.  Think about the following concepts to create your Portland condo's spaces without relying on the typical vertical wall barrier for definition.
Level Change
Perhaps your Portland Condominium has no walls between its dining area and the adjacent space which many of our condos have a great room concept.  Raising one of the areas just a couple of steps can change the visual of the space creating designated areas.   In Portland's Pearl District two of our buildings have this with some of their condos such as in the Irving Street Lofts and Marshall-Wells on one of the floors believe on the 5th floor.   I have seen some condos here in Portland redone adding a raised floor area and is very effective in defining spaces.
Overhead Element
Another idea is to change the material at the ceiling level even though the flooring stays consistent.  This material change is a visual way to define zones in our condos with an open floor plan.  In this article it shows even a change of paint color can create a dramatic effect defining the space.  I can see how this could work great in some of our Portland condos that are studio space by taking the sleeping area and painting the ceiling about that space a different color.  This idea could also be used to define in your condo in Portland Oregon dining and living room space.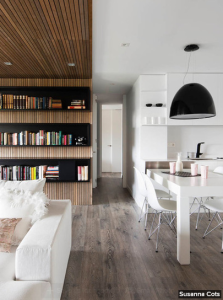 Structural Elements
A condo's structural elements can be used to define space too. Beams can add another layer of architecture that is exposed in the vaulted ceiling.  Many of our Portland Condo buildings already have exposed beams and duck work that perhaps could be used to define space.   I especially like the idea  of dropping down the ceiling in a living room area and hanging two large light fixtures creating its own dramatic space.   I could see this working quite well with some of our Portland Condos that have higher ceilings such as Streetcar Lofts, Gregory Lofts, Marshall Wells Lofts or The Avenue Lofts in the Pearl District.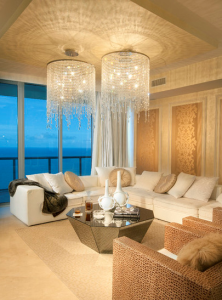 Screens
An easy way to add a privacy barrier near an entryway or to define a bedroom is a room divider.  We have seen many condos here in Portland where transparent glass screens have been used to define bedrooms or office spaces.  Screens are a great way to create an architectural space whether it is a free standing screen, bookcases or installed glass doors.  I have seen this idea used many times with our Portland Condos and it is a great way to create spaces without actual walls.
Flooring Material
Changing the flooring Material can also be used to define space such as different wood flooring in contrasting colors perhaps to define an entry way or kitchen.  An easy way to create delineated spaces in your Portland Condo is with area rugs which with different colors and texture is a great way to define space.   As many of our condos here in Portland have wood or concrete floors where area rugs is visually pleasing way to define space.  Full Article from Houzz.com